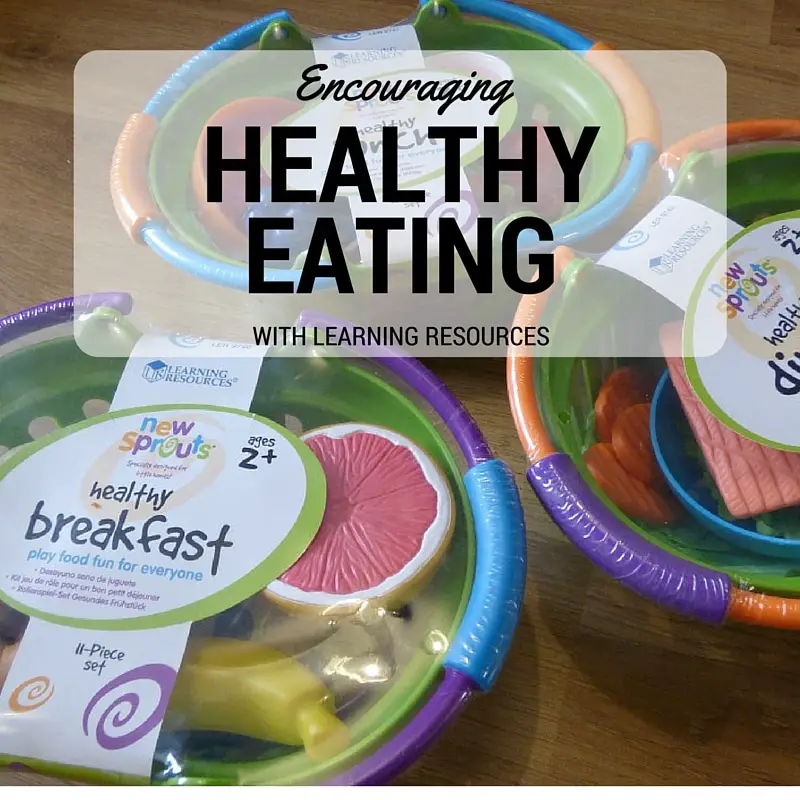 We tend to eat fairly healthily, the boys both love their fruit and veg and will happily eat it, although Mr A doesn't tend to eat much of the main part of the meal if it's meat or a veggie substitute.
It's great to be able to talk to the kids about what is healthy and which foods they like.  However, it's even better to use play food to encourage healthy eating.  I love these healthy eating baskets from Learning Resources, with different types of healthy food for breakfast, lunch and dinner.
I've been a pescatarian for years, so the boys have always had plenty of vegetable and fish options.  My husband eats all kinds of meat, so they often have different meats on their plate too.  This does make me think that they eat quite a variety of foods, but there were still some food in the baskets that they didn't recognise.
I had to explain what the grapefruit was, I have personally tried eating it in the past, but I'm not a huge fan, so neither O or A had seen it before.  They also weren't sure what the asparagus was, despite previously eating it.  Perhaps that means I should be involving them with meal preparation a little more!
After speaking to Mr O (4) about what constitutes healthy food he came up with different fruits and vegetables, which was expected.  However, he also said cereal was healthy, which I don't necessarily agree with.  Both the boys love cereal (no idea why, it's something I only eat because I need breakfast!), but even the healthier options tend to have a lot of sugar.
I quite like that the breakfast basket had a lot more options and didn't include cereal.  The bowl of porridge with blueberries is a reminder that porridge can be quite tasty and there are so many options of toppings, Mr O used to eat it a lot when younger.  We will definitely have to try that again!
The lunch options include the typical bread, lettuce, tomato and sliced meat for a healthy sandwich, pretzels (which we don't often eat, but an interesting option), yoghurt and various fruit items.  This was Mr O's favourite basket, as he enjoyed making different sandwich combinations.
The dinner basket contains a variety of vegetables, baked sweet potato (I haven't tried baking a sweet potato before, normally we cut them into chips), salmon fillet and a chicken breast.  A lot less variety than in the other baskets, but I guess they are so many options for this one it's hard to choose many common healthy dinners!
The baskets and food are very good quality, realistic enough so that children can understand what they are, but not too realistic that they actually try and eat them!  My boys both love the play food and I definitely prefer them over the Ikea felt food we've used in the past, much easier to clean, more exciting to look at and the perfect size for small hands to handle.  The only change I would make is to change the bowls provided with the lunch and dinner baskets to plates, making it easier for children to prepare sandwiches and dinner items on.
If you would like to purchase the New Sprouts Healthy Food Baskets, then head over to Learning Resources website here.
Do your children like play food?  What is their favourite healthy food?
J x
*We received these baskets for the purpose of this review, however all opinions are my own.