I don't know about you, but we don't tend to clean our windows very often.  I mean we should clean them more often, but little fingers are often squashed against the glass, so we sort of don't bother, it is too much like hard work when you have more important things to do.  Like stop children fighting or destroying the Christmas tree…
That does mean that some of our windows are a bit streaky and of need a clean, so when I was offered the Vileda Windomatic to review I thought, YES! Now I have something that will make cleaning the windows easy and they may actually get done more than once a year!
Easy Window Cleaning
The windowmatic is so easy to set up and use, simply attach the head to the body of the device and plug in for 6 hours until the charge light goes green.  Then you can unplug and get to work.
For windows it's best to clean with the soapy water first and then press the button on the windowmatic to start suction and suck up all the excess water without the streaks.
When the water compartment is full you press down on the release and take it off, open the container and pour it, then re-attach.  Very easy, so easy that my 2 year old decided to lecture me on how it works.
The head of the vacuum cleaner can flex, which makes it easy for getting into the awkward corners, or going over the edges of patio doors.  It's also incredibly light so even our 2 year old can use it with ease.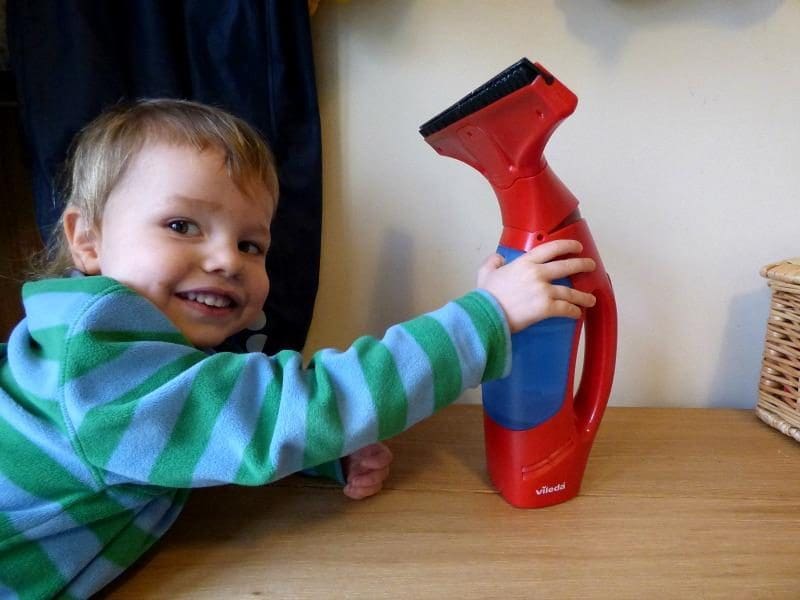 Messy Children?
What is even better about the windowmatic is that it's not limited to window cleaning.  Oh no, any liquid can be sucked up into the container (within reason, I'm not suggesting you suck up pools of toddler urine off the floor!!).  So when your children come into the house from splashing in puddles, you can clean up the mess easily.
Even if the puddles were muddy the windowmatic can get rid of the mess, leaving a nice dry floor.  So no more muttering at the floor as you find a bit you missed and are now walking about in cold wet socks.
Another common problem here is the spilling of drinks, I can hardly complain as I'm sure my parents well remember how bad I was at spilling drinks as a child. There was always the 'be careful with it' when I was handed a glass of juice and at the very least 7 times out of 10 I would spill it.  My kids are no different and every day I am cleaning up pools of water and milk from floor and table.  But now we have the windowmatic vacuum cleaner I can use that to suck up the liquid.
Summary
It's a great device that makes window cleaning and cleaning up spills on the floor so much easier.  Instead of looking around for a towel to use we can simply turn on the windowmatic and clean up in seconds.  We might even have clean windows from now on, which is nothing short of a miracle!
* I received compensation for this post, however all opinions are my own.