AD – This is a sponsored review post for World Kitchen
What do you think makes the perfect family crockery?  For us it's plates and bowls that are resistant to breaks and chips.  We've had so many different dinner sets that have been reduced to 2-3 pieces of crockery as they've become chipped and cracked!  It's not always the kids fault either, sometimes it's us adults with butter fingers, whoops!
Corelle Dinner Sets
Step in Corelle kitchenware.  Corelle is a type of dishware that made it's debut way back in the seventies, but is still around and thriving today.  Corelle dishes are made of a three layer glass laminate called Vitrelle glass, which is lightweight, strong and durable.  As you can probably guess it's also chip and crack resistant as well as oven, dishwasher, freezer and microwave safe.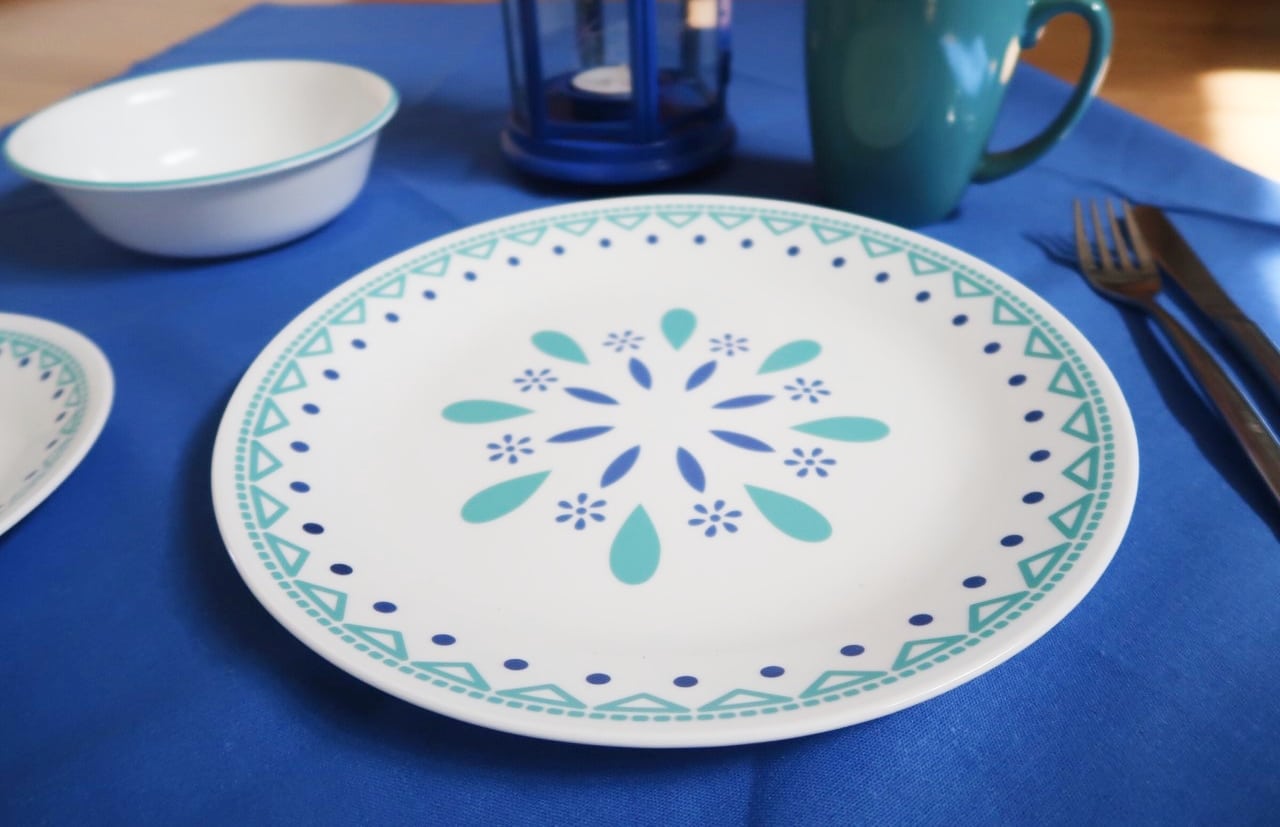 The designs are all gorgeous and exciting and would suit modern households.  I chose a 16-piece dinner set called Santorini Sky, which is white with a pretty blue pattern that reminds me of the Mediterranean seas.
The plates do feel different, but that's mainly because they are a lot lighter weight than the traditional plates we have been using.  As they are light and resistant to chip and cracks they would also be perfect for taking on picnics.   It would definitely make for a posher picnic plate than the usual plastic plates.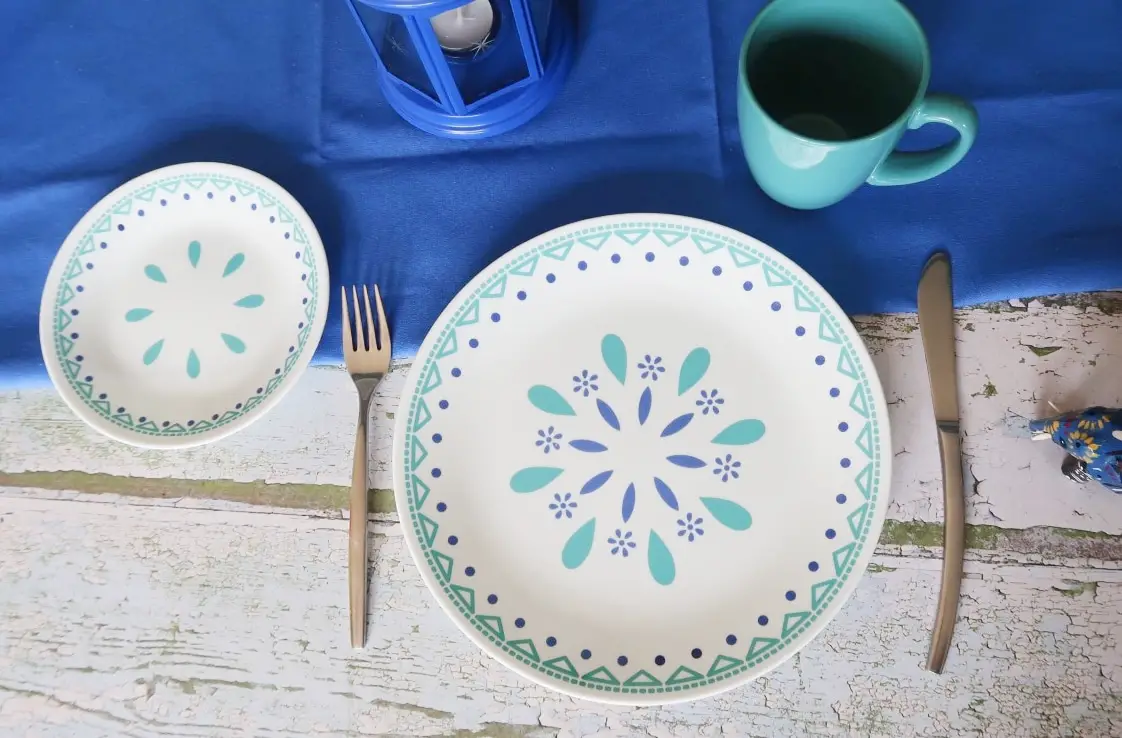 There are 4 dinner plates, 4 bread and butter plates, 4 cereal bowls and 4 stoneware mugs in the set.  As the crockery is ultra thin they take up a lot less space in the cupboard when stacked up, compared to other stoneware plates we've had in the past.
I spent ages searching through all the dinner sets on World Kitchen until I chose Santorini Sky.  There are lots of beautiful designs to choose from and in almost any colourway to match your table setting.  I was torn between various designs featuring strong geometric patterns or more modern floral meadow scenes.  There are even square sets that would look great on my table.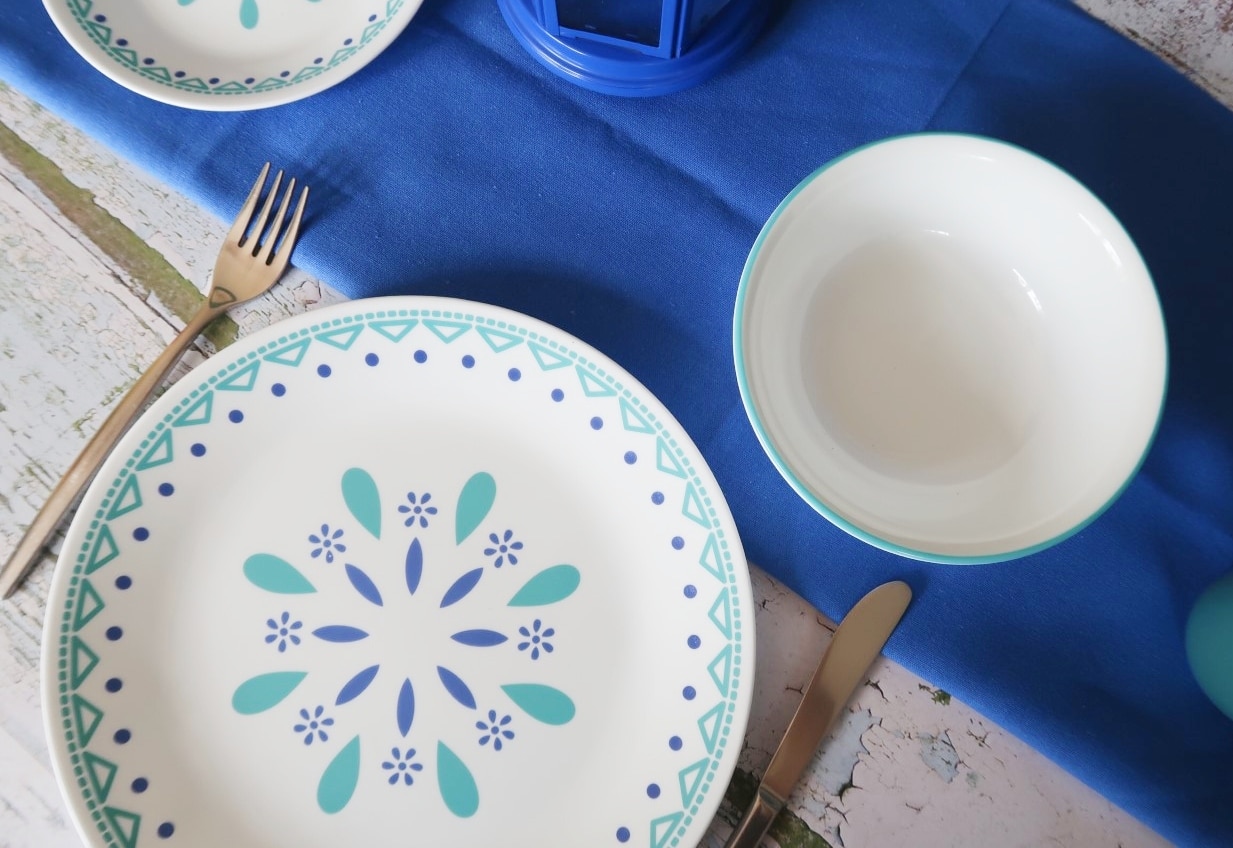 World Kitchen are so sure that you will love their kitchenware that they have a 3 year guarantee to replace any Corelle brand product that chips and breaks through normal use.  I guess they are quite sure that they are durable to have that guarantee in place!
I had never heard of Corelle dinnerware until I was sent this beautiful dinner set,  But now that I have I will definitely be happy to buy more sets in the future.  You can get a 20% discount on your own dinnerware with my code JE20 until midnight on June 30th 2019.
Pin For Later