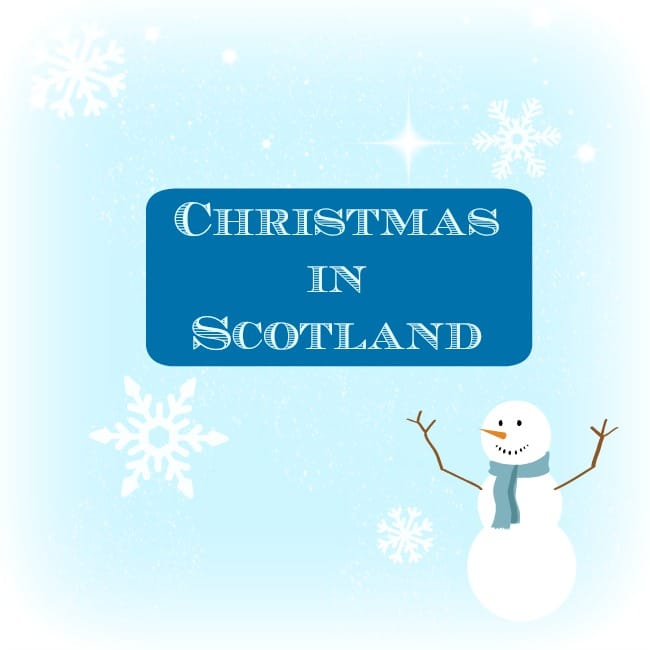 Christmas is coming soon, possibly one of my favourite times of year.  I especially love the festivities on the lead up to Christmas.  Each day in December I add a little activity in the boys advent calendar and several of these are to go to certain Christmas events.  If you're looking for some ideas for what to do at Christmas time in Scotland then have a look at my list below.
Visit Santa
Of course most of you will know where to find Santa's grotto's, there are lots dotted around the country at garden centres and shopping centres, here are some our favourite tried and tested as well as a few that we haven't yet had a chance to visit.
Santa Train at Bo'ness and Kineill Railway
A ride on a steam train, where Santa walks along giving out gifts to every child.  We were pleasantly surprised at how friendly Santa was and that he even gave little ones under 1 a gift despite the fact they didn't need to pay for a ticket.  There is also a museum and model railway to visit.  *note that it's fully booked for this year, but book late next summer for next year (sells out fast).
Santa Woodland Experience at Balfron Station
A tractor and trailer ride through a pretty woodland to Santa's grotto in the woods.  Each child receives a gift from Santa.  This will be our first year visiting this one and I have heard it's magical, we can't wait!
Christmas Experience at New Lanark
New Lanark is a fantastic place to visit at all times of year, I used to volunteer there at the Scottish Wildlife Trust and loved walking around the reserve to the waterfall and watching badgers in the evenings.  In December it takes on a truly festive feel, where you can visit Santa in his grotto, go on the Spirit of Christmas ride and take part in various crafts and activities.
Santa Express on the Strathspey Railway
We loved our visit to the Strathspey railway in August this year, but for December it's even more magical as you can take a ride on the Santa Express (steam train) and meet Santa himself on the train, who gives each child a gift, as well as snack and drinks for everyone.  There's also 10% of tickets to the Cairngorm reindeer with a ride on the Santa Express.
Visit Santa on the Snow at Snow Factor, Braehead, Glasgow
Santa will be settling into his grotto on the real snow at Snow Factor, where children can meet him and receive a gift.  For a little extra children can also receive either brunch, lunch or dinner, 30 minutes sledging (as part of a group) and a short story with Santa himself.
Sail with Santa at Loch Katrine
Go on an hour long sailing with Santa and his helpers on the famous Sir Walter Scott steamship across Loch Katrine in the beautiful Trossachs (check out our last visit to Loch Katrine here).  Santa and his helpers will spend some time with each child, who will receive a wrapped gift and adults will be offered mulled wine.
Christmas Markets
Visit Edinburgh's iconic Christmas market.  There is plenty of entertainment in Santa land for the kids, along with a short train journey, ice wall, helterskelters, Christmas tree maze and more.  Go on the big wheel to get a birds eye view over Edinburgh, walk through the stalls in Princes Gardens and buy some unique Christmas gifts and tasty food.
St Enoch's square hosts Glasgow's Christmas market with a range of Christmas stalls where shoppers can buy gifts from all over the world and eat delicious food.
Aberdeen's Union Terrace will be hosting a winter wonderland Christmas market, complete with street market, fairground rides, ice rink and an entertainment marquee.
Other Events
Throughout December you can see Stick Man live on stage at Edinburgh's St Andrew Square, book tickets online and pick them up at St Andrew's square when you arrive.  If you are an Edinburgh resident you should get a discount on the cost, although you need to provide proof of address on the day.
Dunblane Christmas Extravaganza
Meet Santa and his lovely reindeer, browse independent shops and eateries, watch a variety of street entertainment and a closing firework display at 8pm. Visit the Facebook page for more information.
On the 28th and 29th November Callander is hosting a winter festival with a Christmas market, handbell chimes, Disney's Inside Out film, a fancy dress parade and of course Santa himself.  Visit their website to find out more.
These of course are just a few events on offer in Scotland at this time of year.  If you come to Scotland now then you may actually experience a white Christmas, it does happen occasionaly!  Of course if there is no snow on the ground where you are staying you can easily head up the hills to find it or at various skiing and snowboarding areas in the mountains.  We have so many great places to stay, so if you would like to spend Christmas in a cosy cabin with wood burning stove then Scotland is the place to come!
What Christmas activities are you doing this year?
J x