Last weekend we took O and A to Butterfly World in Edinburgh with their grandparent's and Auntie.  It's been a long time since my husband and I visited, I was heavily pregnant with O at the time.  To be fair not much has changed, but it's still great to take the kids to visit.
When we first went in, it wasn't as warm as usual due to one of the workers spraying the environment with water to bring the humidity up and mimic the rainforest environment, but not long later we were sweltering and had stripped of jumpers!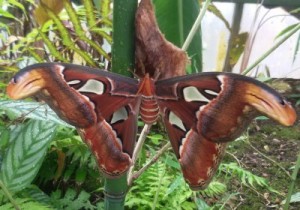 The vegetation is beautifully green and there were hundreds of butterfly's fluttering around.  We found caterpillars on the plants and a butterfly laying eggs.  Some newly hatched butterfly's were hanging onto their cocoons looking rather majestic and many more cocoons were hung on plants and on bamboo sticks against the wall.  I didn't manage to get a good photograph, but there were some amazingly shiny gold cocoons, hanging there, I had no idea which butterfly they turned into, but their cocoons were amazing!
Terrapins were relaxing in the water, lying under the heat lamps and leaf cutter ants were hiding in the vegetation at the back of the centre (unfortunately I missed seeing the ants due to a tantrumming pre-schooler, but I do love leaf cutters, they are amazing to watch!).
 There are several tanks with fish in that the boys loved looking at and several gigantic snails hidden on plant stems.
At the back of the centre there is a reptile, insect and mammal centre, where we found many snakes, lizards, spiders, scorpions, frogs and nocturnal hedgehogs amongst other animals.  O loved going into the darkened nocturnal room and looking at the snakes, although he wasn't quite so sure about holding the snake during the handling session.  Although he did stroke it while Daddy and I had our turn holding them!
The scorpions remind of my gap year in Belize when I was 17, there were some scorpions hiding in our food storage area and I unfortunately had to machete one poor scorpion after there had been an incident with one of my team members getting stung and going into shock.  I don't like scorpions, but I'm not really sure of anyone who does!
In the handling session O also had the chance to hold a giant millipede, with it's tickly feet walking over his outstretched hands.  O was getting hungry part way through the handling session, so we didn't manage to see the Tarantula's up close, but I think he was too tired anyway.
We watched the butterfly's flying around as we walked back out of the rainforest heat and humidity and back to the cold and wet reality of Scottish weather outside!
Have you visited a Butterfly World near you?
J x