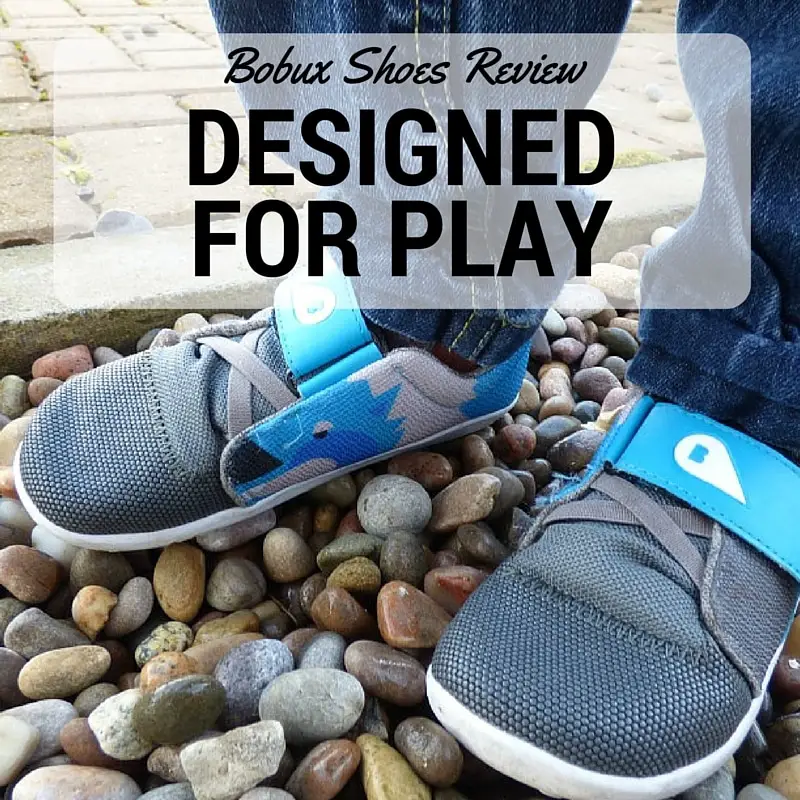 I'm sure you know how quickly children's feet grow, we're always buying new shoes, trainers and wellies for our two.  Even more so as we don't often have the luxury of a car during the week and spend a lot of time walking.
The amount of walking we do is probably why the boys and I go through so many shoes.  Mr O went through 5 pairs of wellies in his last size as he wore them everyday for months.  Of course using his feet as brakes on his bike didn't help either…
As we walk so much I need to make sure the boys have well fitting, comfortable shoes that will last.  I have heard many good things about Bobux and the quality of their shoes, so I was excited for the boys to try out their latest range of shoes – Blaze.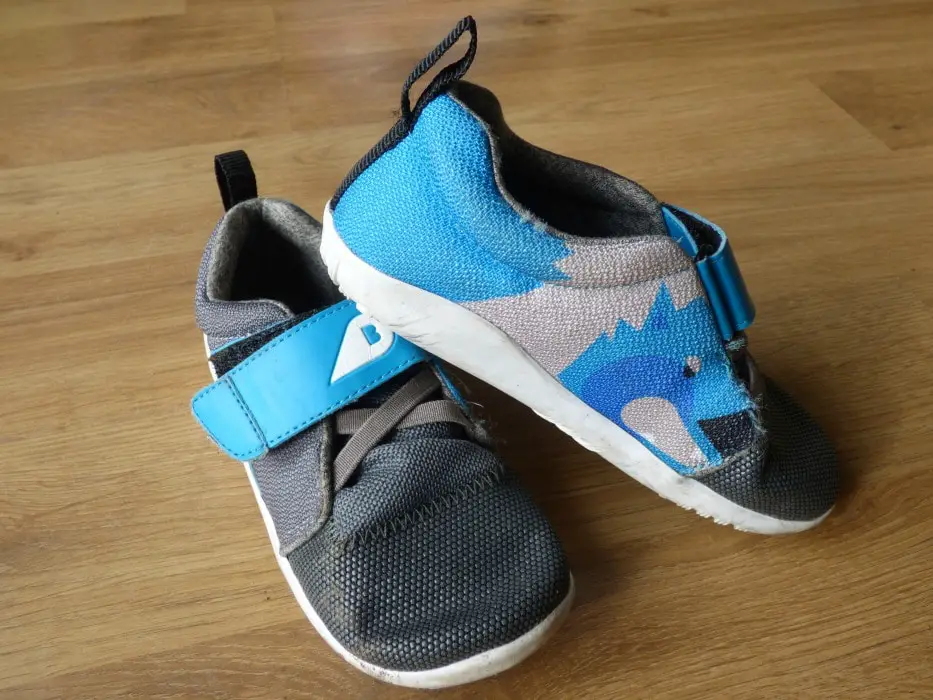 The Blaze range of shoes are designed for toddlers and preschoolers who, tend to put shoes through a lot of wear simply by playing.  The Blaze range are specially designed to cope with the unique and physical play of young children, with features including the micro armor textile on the toes and a new lightweight flexible rubber compound for the sole, with a specially designed grip based on Formula 1 tyre treads!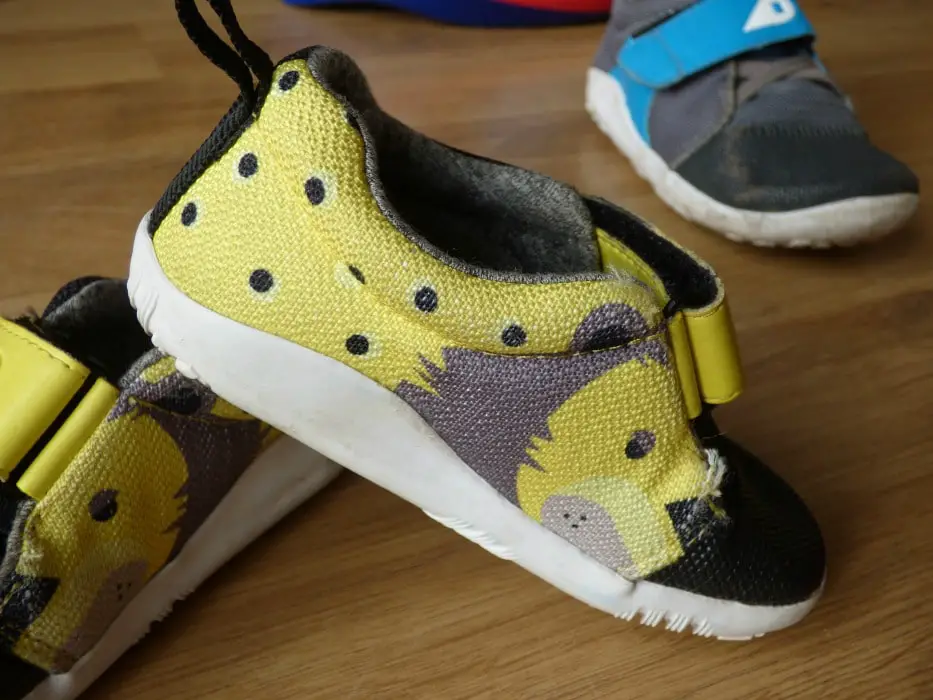 The pictures on the shoes are, unusually, on the inside of the foot.  This is so you can tell your children that the animals need to be hugging (or fighting!) to make sure they are on the right feet.
Well, as soon as the boys saw them they both wanted to wear their shoes and refused to take them off.  There may even have been tears from the littlest when he was told that he had to take them off if he wanted to jump on the sofa (yes, we let them climb and jump on sofas, that's not a battle worth fighting!).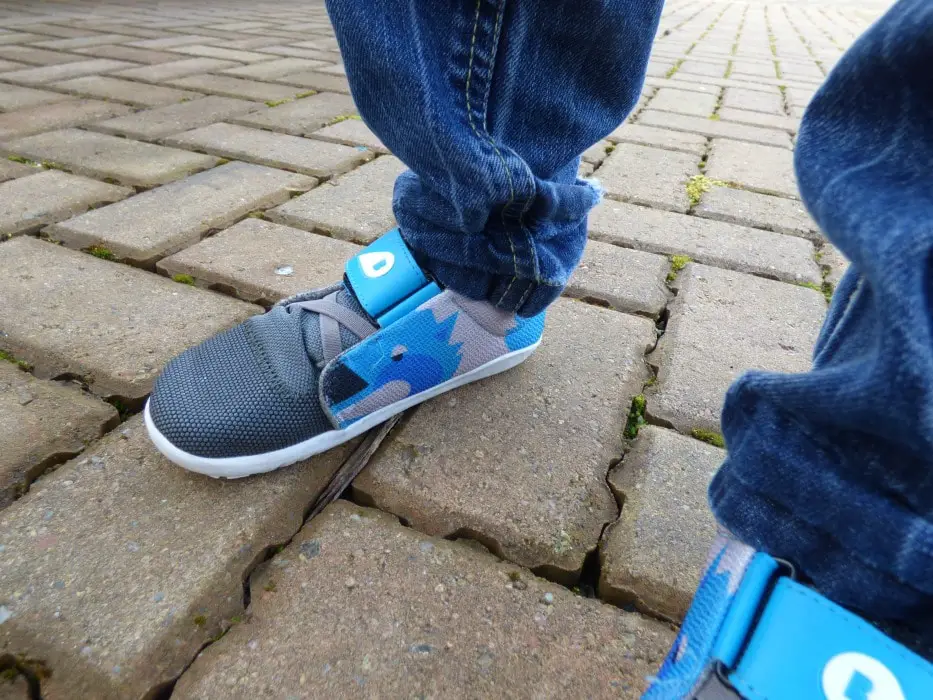 I did wonder how hard wearing they would be considering how light weight they felt, and they are seriously light, only 44gms per sole!  I think that's one of the reasons the boys both love them so much, they are so easy to run around in!  So far, the shoes have been brilliant, although I will have to update this after a few months, when they've been really tested.
Being velcro, they are easy for both my 2 and 4 year old to take off, a lot of preschoolers could probably put them on too (mine refuses to try, but he'll get there one day).
Bobux also has a great measuring system, so you can ensure that you purchase the correct size shoes for your child.  They have a little video on their site here and then fill in the information requested and a handy graphic will inform you of the correct size to buy.
You can choose from 4 designs, the blue wolf as O has, yellow cheetah like A is wearing, pink unicorn (which A almost chose, he was swaying between that and the cheetah) and the orange hi-top tiger.  The Hi-top shoes are priced at £45 and the other three are £42 each, worth it for quality shoes that will last.
You might notice that there is some pulling and a few loose threads on our shoes, I have been in contact with Bobux and apparently a small sample of shoes have had a few problems with loose threads and piling.  They are currently rigorously testing the shoes to find out why and if you happen to receive an affected pair they will replace the shoes free of charge.  Great customer service!
We would definitely buy from Bobux, they obviously care about their product and children's feet, making sure that their shoes are capable of working hard and their customer service is brilliant.
What kind of shoes do your children like?  Do they often wear through them?
J x
* I received these shoes for the purpose of this post, all opinions are my own.