We're probably well known as cyclists in our town as we are often spotted out and about on our bikes.  We don't have a car during the week as my husband needs it to get to work, so cycling is a quick and free option for us.
Why Should You Cycle?
There are so many reasons to jump on your bike and start cycling.  Clearly it's good exercise, although perhaps not the fun free wheeling down the hill bit.  Depending who you cycle (or don't cycle) with, it can give you a chance to reconnect with friends or family, or time to think by yourself.
Cycling is also amazing for discovering new parts of your area that you wouldn't necessarily go to in a car or if you were jogging.  There are so many fantastic cycle paths around the country, but there are also plenty of other roads and tracks that you can use just as easily.
Can A Bike Really Give You More Freedom?
What I love most about cycling is the freedom we get compared to getting into the car.  Yes we can go longer distances quicker in a car, but the hassle of parking and getting kids in and out each time is quite annoying.  With a bike we can jump on, cycle to the next village, go to the shop to grab a roll for lunch and then down to the park and enjoy some time together.  That's a lot more hassle in a car for us!
We can also stop whenever we see something exciting, such as a bird of prey flying overhead or tadpoles in a puddle beside the track.  It's not so easy to stop and appreciate these little things when you're in a car.
Cycling With Kids
Both our boys have had balance bikes from a young age, our 3 year old still uses his.  When we go for several mile bike rides the 3 year old is on the bike seat behind me and my 5 year old is on his Frog bike, which he loves.
Kids bikes seem to be quite 'diverse', our 5 year olds first pedal bike was so heavy that he struggled pedalling uphill.  As soon as he got on his Frog bike I saw such a big difference, he could straight away peddle uphill.  Partly because the bike is lighter and partly because he now had gears.  I highly recommend researching different bikes before you buy your child a new one.
One of my best tips for cycling with kids is bring plenty of snacks and water, then the kids should be happy for the ride.
Safe Cycling
Cycle Republic have created a really interesting cycling infographic.  One of the main points I took from the infographic is how important it is to stay safe whilst cycling.  The majority of cyclists in the UK do not feel safe on the road, I know I personally don't feel safe on the roads and much prefer to stick to tracks and cycle paths.
Although helmets aren't a legal requirement I definitely think it's important for safety.  You can be the best cyclist in the world, yet be knocked off your bike by a vehicle or even slip on ice.  Both my boys have crashed into things whilst on their bikes and without their helmets they would have been a LOT worse off.  So I am thankful that they are so good at remembering to wear them.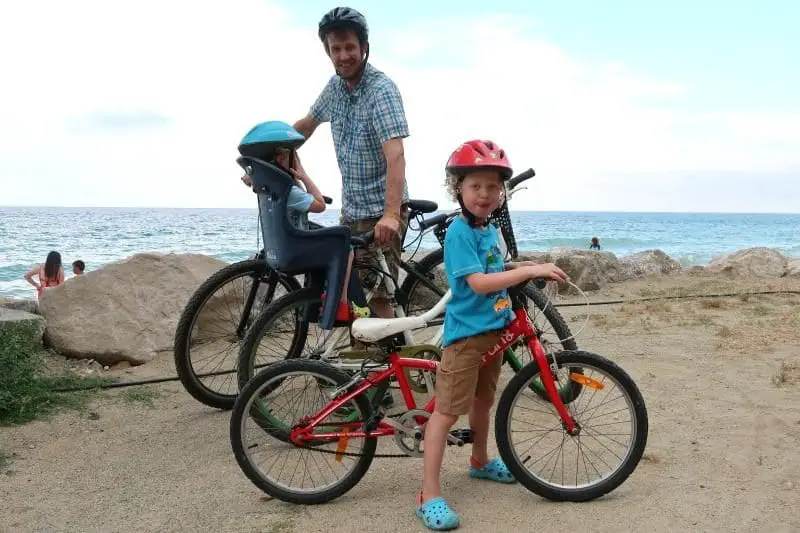 We don't tend to cycle in the dark, but I didn't realise that it was a legal requirement to have certain lights and reflectors on the bike.  Around 5% of cyclists don't have the correct lights on their bikes, so if you cycle in the dark, please check that your bike has the required lights so road users can see you!
I really hope that the future of cycling in the UK means that more of us take up cycling and roads are made more bike friendly and safer for cyclists.
Do you feel safe cycling in the UK?
* This is a collaborative post with Cycle Republic.