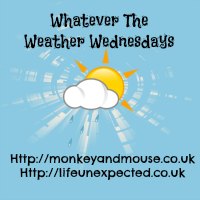 Welcome back to Whatever the Weather!  The linky for outdoor family posts.
We have some exciting developments with the linky and will be telling you more about it next week, make sure you're following us on Instagram for updates too.
Please, please, please remember to grab the badge or add a link back to our pages.
Also a reminder, please read the rules below.  This linky is for FAMILY OUTDOOR posts, any post that is not family AND outdoors will be removed from the linky.  To link up you must grab the badge (please use the code to include the link back) or include a link in your post or sidebar and comment on the 2 host posts and at least 2 other links.  This way everyone should get some linky love, which is what this is all about. x
Whatever the Weather: We're out there together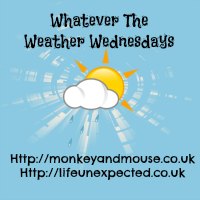 I am co-hosting this fantastic linky with my lovely friend and blogger Chloe from over at Life Unexpected.
My favourite post from last week was NatureMumBlog's How to Make a Rain Gauge.  I love the idea of getting the kids involved in measuring the weather.
Chloe's favourite post from last week was The Helpful Hiker's post on Thor's Cave and Wetton Walk.  It looks like an amazing walk and I absolutely love that cave!
This linky is the place to share your outdoor family fun posts, whether they're old or new we want to read them!
To link up simply grab the badge and link up your old or new outdoor family fun posts.  I can't wait to have a read!
Of course there are a few rules and etiquette to follow, please have a quick read below…
Rules:
1.  You can link up to 2 posts per week.
2.  Be sure to grab the Whatever The Weather badge on each post you would like to link up (code below-paste it into the HTML option of your blogging platform) or place it on your blog sidebar.
3.  Comment on the hosts posts and at least 2 other links – please share the linky love, it's what makes linky's such great communities!
4.  It would be fantastic if you would like to share your post and let others know about the linky on social media using #WhateverTheWeather hashtag.  We will retweet all your posts via Twitter if you mention us in your tweets (@monkeyandmousey/@lifeunexpected2)
5.  Finally, if you could please follow Monkey and Mouse (Twitter, Facebook , Instagram and Pinterest) and Life Unexpected (Twitter, Facebook, Instagram and Pinterest) that would be wonderful!
J x
<